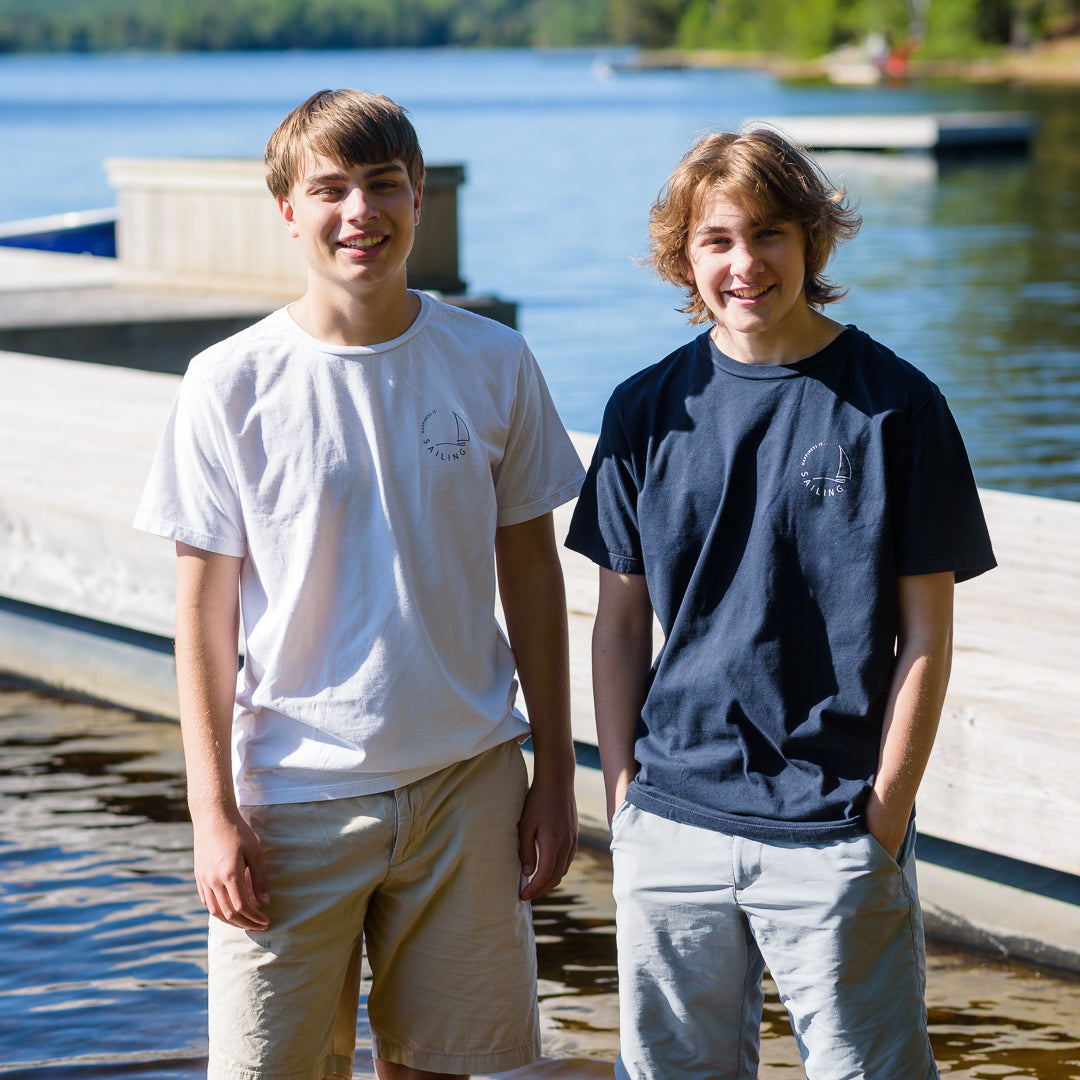 Sailing isn't an experience that I grew up doing, nor do I know how to do it today. But some of my most memorable and best vacation experiences have been had on overnight sailing trips.
My first sailing experience was when I was 15. My Dad booked long in advance and saved to take us down to sail around St. Maarten, Anguilla and St. Barths. Our family had only once before been anywhere in the Caribbean, and I was so excited. My Dad had grown up sailing at his cottage, but our own cottage (my mother's family) isn't the right shape for any real wind, and virtually no one does it. When he was a youth, his parents took him on a family sailing vacation, and he loved it so much that he wanted to share his experience with his children.
He was out of practice for years, so we hired a captain, stocked up on food, and my mom learned recipes to make on a boat. We sailed for two weeks around the three islands, and I couldn't be happier. At the time, Anguilla was not the honeymoon destination that it is now, and we would anchor at amazing deserted beaches, or ones where there was just a lonely beach restaurant/bar. We would dinghy to shore and walk up to the beach restaurant where there was a water bucket to dip your feet in to wash the sand off. Even at 15, I was in heaven.
My second experience came soon after Dave and I were married. We were living in NY, and our friends were scattered around the globe. Our best friends from university were newly engaged living in Venezuela, and since one of them was an avid sailor, they suggested we meet halfway in the BVI's and take a sailing trip. We gathered 7 of us from NY, Venezuela, England, and Toronto for a week's vacation and an onboard engagement party (we even decorated the boat with tulle). Our friend was the captain, and we put our faith in him, teaching us what we needed to know.
Other friends in our circle thought we were a bit nuts and likely ready to kill each other after a week. Our primary response was, we will make daily trips ashore to give each other space. In the end, however, it was comical how rarely we left the boat for on-shore activities. We were more disappointed on-shore than the enjoyment we found in the isolated areas and the new funny stories we were creating. We caught up on our lives, laughed a lot, played Trivial Pursuit games, drank a lot of Rum, read, barbecued, and went snorkelling. Again I was in heaven.
My third and most recent experience is when we visited Dave's brothers' family when they worked for the United Nations in Fiji. Our kids were 8 and 12 and looked forward to seeing their young cousins. We planned the trip based on my brother-in-law's suggestions to stay, but one aspect that appealed to me was to try out sailing once again. An image of sailing the Fijian waters stuck in my head. Based upon time off work while we visited for our extended stay, coupled with how young the cousins were, it was a part of the trip that would be just us. I found a captain with a boat, and he came with a cook and first mate as well.
Remote is an understatement. Fiji itself is a country of multiple islands, and you travel from one to the next but only a small section. We went for five nights and not a soul where we anchored until our final night—places where the only footprints you see are your own. Occasionally we would pass an island with a remote resort. One of the uninhabited islands we anchored was the location for Survivor's 2006 season (and since our trip, starting in 2016 has become their regular spot). The kids watch the tv show knowing we made a bonfire, cracked open coconuts, and walked the same beach. On the trip, we fished, and then the cook would prepare sashimi or other dishes. We made some amazing catches! The scenery was stunning, the snorkelling out of this world (I was worried my kids might never enjoy it elsewhere). The kids never seemed to get bored: they jumped off the boat, steered, lazily watched the islands go by, read or had fun on the deck or in the cabin rooms and portholes (Blake's favourite game was popping out to surprise us). Once again, I was in heaven and happy.
Without an ounce of experience, the three sailing trips I have taken have been, without a doubt, some of my favourite travel experiences. I look forward to the future if and when I get an opportunity to do another. Happiness is...sailing even for the non-sailor.
Andrea Armstrong
Chief Happiness Officer
(note that my boys look a lot older now as our sailing models)