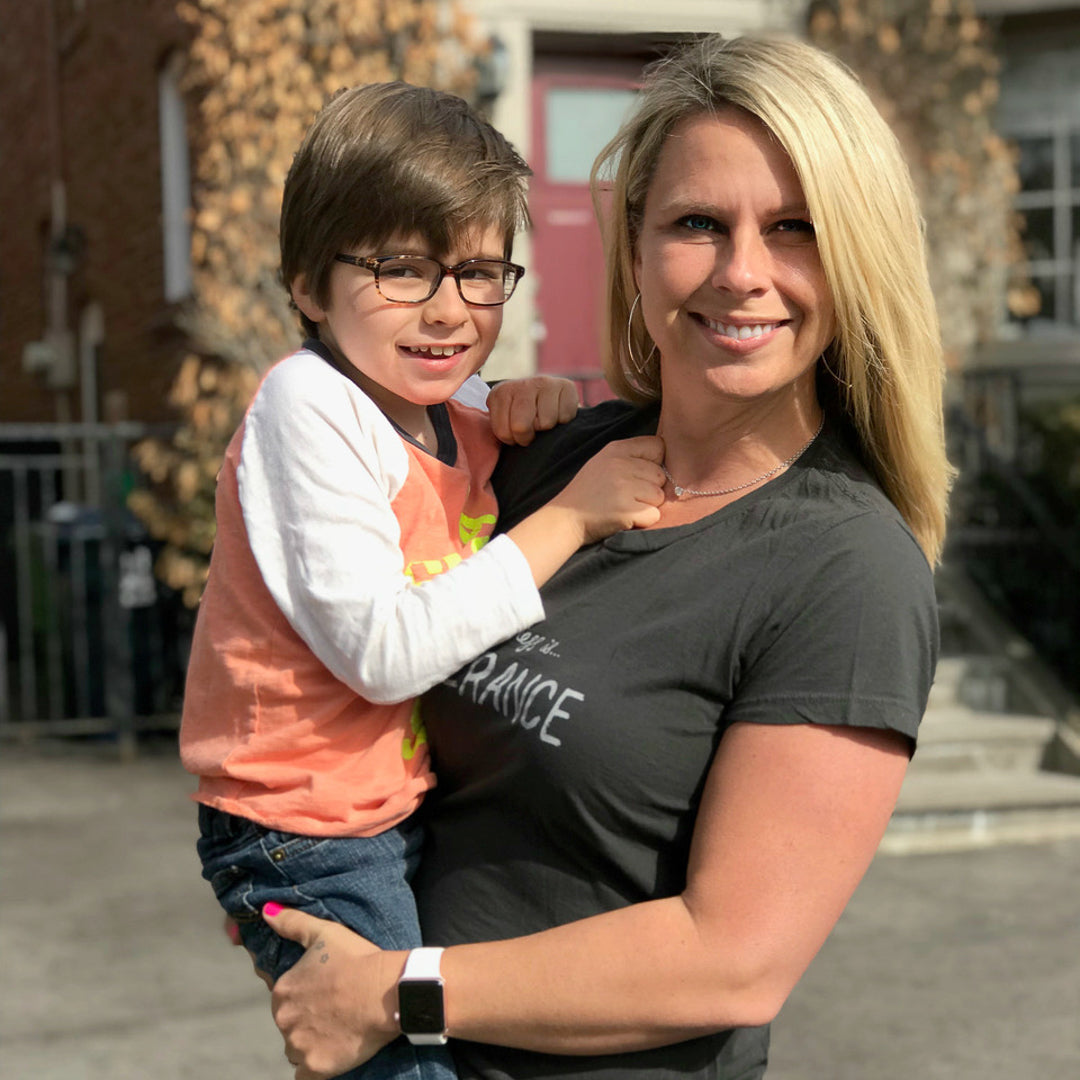 Natalie Boese exudes positivity in everything she does — and she does a lot. As a successful entrepreneur of two businesses and the mom of two boys, she navigates the world with a sense of optimism and energy. She's unstoppable. 
Natalie's second son, Rhys, was born with a rare gene mutation that requires extensive medical care. Over the years, Natalie has met each challenge that Rhys and her family have faced with grace, humour and perseverance to give both of her boys the very best in life.    
Janet nominated Natalie for The Happiness Files as a way to recognize her incredible vibrancy and cheer. 
"Natalie's journey has been hard but she remains the most optimistic and hopeful person I know. She is the kind of person you love running in to because is always happy to see you and smiling. She has become an amazing advocate for special needs kids and Moms."
We're so happy to be featuring Natalie to uncover a few of her favourite, happiest things. Read on to learn more about this phenomenal woman and her son. 
What do you do? 
I am an entrepreneur at heart. I am Health, Wellness and Prosperity Coach, and a Digital Organization Consultant focusing on Apple products.
When I can help other women, especially mothers of kids with special needs transition to a more healthful, happy person I receive so much joy from that! When their load begins to lighten, I show them how they can create a residual income that will allow them to stay at home with their kids and decrease the financial burden that comes with having a child with special needs.
In my secondary business, I relieve stress by showing my clients how to organize their digital life and do things more efficiently. I get excited just talking about it!
Where's home for you?
I live in North Toronto near the 401. I adore my neighbourhood and being outside. I'm in my 40s and I finally figured out how to dress for the weather and still look cute! I am an early riser and I get up between 5 am and 5:30. I either walk 5 km or I run. As I go, I say hello to everyone that I pass. That point of connection isn't always for me. You never know who you can connect with that may go a whole day without speaking to anyone. I try to make the world a little bit smaller by making eye contact and smiling.
Where is your happiest place in the world?
I am most happy when I have my earbuds and my iPhone in and I am walking my dog, Travis. Close runner-up: being at a music festival.
What's your favourite song these days?
That might be the hardest question I've been asked! I LOVE MUSIC. It defines me in a way that puts my life into chapters and I'm a music collector. I specialize in the love of all things Britpop but my roots are more North American. If I had to give a few old songs that make hair on my arm raise when I hear them they would be; The Cure, "Pictures of You", Neil Young's "Tell Me Why", Concrete Blonde "Joey", Badly Drawn Boy "The Shining" and a few tracks that are relatively new that I love is a cover of "Harvest Moon" by Poolside and I adore Craft Spell's "From The Morning Heat".
What movie could you watch over and over again?
I have a hard time sitting still for a whole movie and there are very few movies that I could watch again. That said, I do have movies that I just LOVE! The Goonies, Beautiful Girls, 16 Candles and The Holiday… oh, and Love, Actually. Were these supposed to be one-word answers? I'm sorry about that. I like too many the more I think about it.
Do you have an app you can't live without?
The music app first and the podcast app second.
What's your favorite food or meal of all time? 
I like appetizers for dinner. I think that's pretty consistent with the noncommittal answers that I've given above!
What is your favorite outdoor activity(ies)?
I love to run, go on walks, play tennis, and when my knee allows it, snowboard.
What's your favourite indoor activity?
Organizing. Either physical items in the house or digitally on my computer, especially my photos and music.
What talent or skill do you have that would surprise other people?
I sent a birthday video message to a friend and apparently, I can sing! Who knew.
What are your words to live by?
When in doubt, throw it out! (Ha. No, although that's true, I'm a minimalist at heart). Really though, it's "What you focus on, you find." If you focus on the negative things going on in your life that's exactly what you will see. I choose a victory to celebrate each day.
Are you a dog lover or a cat lover, or do you have another favourite animal?
I am dog lover after years of cats. My sidekick Travis is named after a British band, (actually all my animals were named after songs or musicians). My cat was named Tigerlily after a Natalie Merchant song and Boz for Boz Boorer, Morrissey's guitarist) just passed away. He was the cutest Cavalier King Charles Spaniel and he walked with me everywhere.
Which do you prefer, Mountain or Beach?
Beach!!
Please fill in the blank -  Happiness is…
Serving others so that they feel just as happy as I do.    
When are you at your very happiest?
In the early morning before the city wakes up and I am on my own.
What Happiness Is Inc. shirt are you loving right now?
I am wearing the Happiness is... Tolerance t-shirt right now. The material is so awesome and I absolutely love it. I am going to give one as a gift for sure.