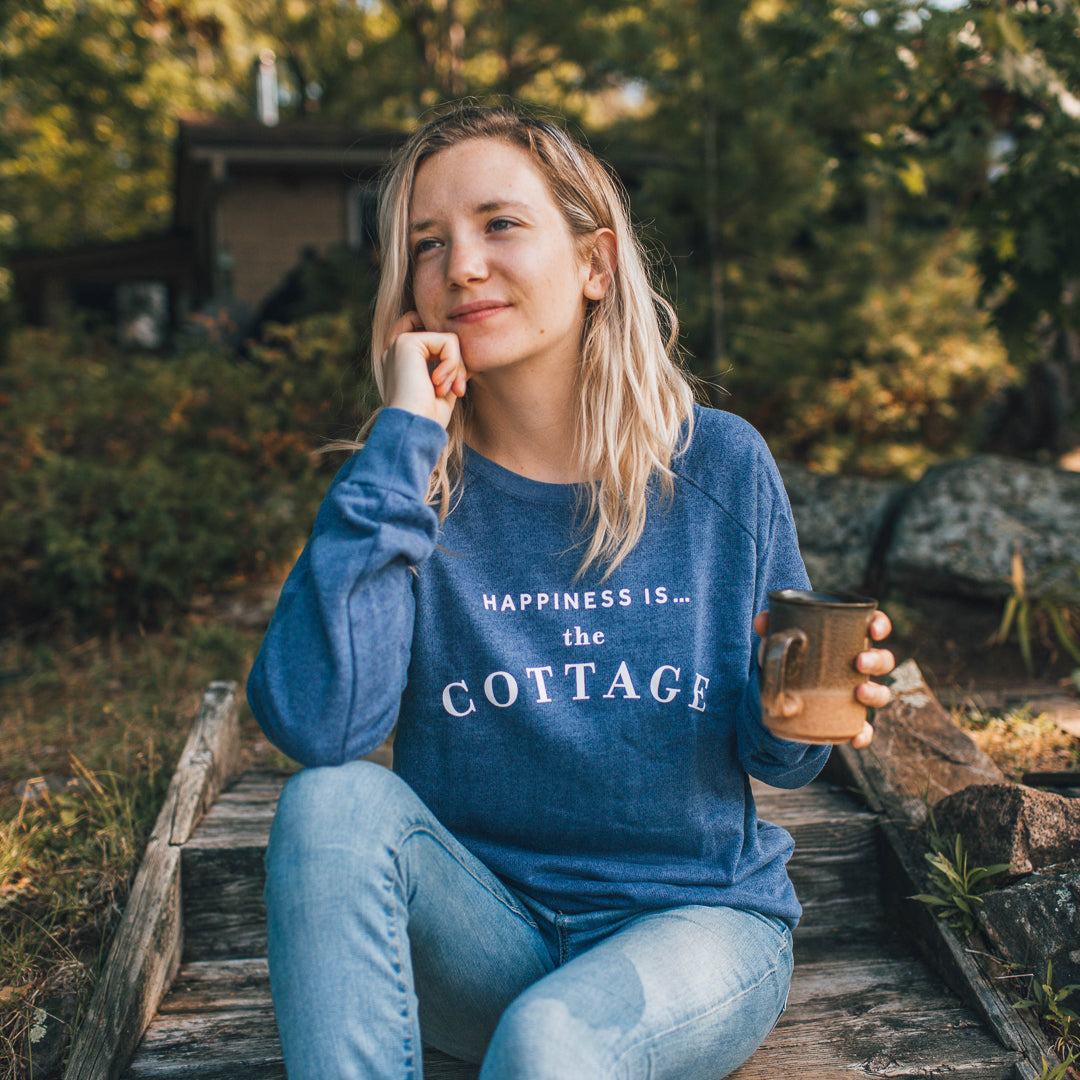 Happiness is...
...being on lake time
...chasing sunsets
...bonfire smores
...dock days
...tin boatin'
...Muskoka chairs 
...Star gazing
...wild blueberries
If there is one thing that anyone who knows me would say brings me happiness, it would be the cottage. From the moment I was born, I have been going to our family cottage up on Oxtongue Lake, a small lake just before you enter Algonquin Park. When my grandfather, Gordon Carton, purchased it, I don't think he had any idea what kind of crazy cottage nuts he would create – and nuts we certainly are. I spend the summers at the lake (wifi and printers can be a good thing), my parents built their permanent residence, my husband and my brother's family are weekend warriors, and my sons count down the days starting at labour day. We enjoy all your typical cottage activities:
Fish: my son can go for hours.
Waterski & tube: learning to waterski at the age of 4 is a right of passage.
Have campfires: smores anyone?
Play cards and board games: Euchre and Catan are staples.
Puzzles: I am laughed at a bit...but another enthusiast passed along her love of pinot, puzzles and potato chips, perhaps it's a new expression!
Canoe: the mist on a calm lake in the morning is hard to beat, but mini-canoe trips are so much fun.
Have dance parties: if my kitchen counters could talk - yikes!
Read: Dock or screened-in porch - take your pick. (Do I admit I once told Dave I couldn't come back to the city until I finished reading Harry Potter?)
Walks: our back road is the perfect place for a gab session.
Swim: of course!
Happy Hours: what I think we live for each night. It's a lake ritual.
However, the thing that brings me the most happiness is spending the time with friends and family. I think our lake is pretty special in the number of multi-generational families that continue to come every summer (and winter). It seems to create a special bond as each generation multiplies. My son recently talked about how much he loved that at the cottage he is friends with his own age group but ALSO his parents' friends AND his grandparents' friends. How cool is that for a parent to hear! It's always sad for me as the summer comes to a close. I may go back to my city life, but whenever I need to put a smile on my face, I just think about "the cottage".
Andrea Armstrong (Chief Happiness Officer)
My Grandfather and me at the cottage.
Pods & Pages
Book:  Barefoot at the Lake by Bruce Fogle A lovely dockside read about a boyhood summer in cottage country.
Blog: Good Weekend If you are from Toronto, check out this blog for weekend guides to destinations within 3.5 hours of Toronto. It aims to avoid the tourist traps, includes cottage/Airbnb rentals and lots of inspiration for city escapes. It is better known as "Escape Toronto" on Instagram.
Movie: On Golden PondA classic all cottagers need to see at least once. The bond and friendship that develops between an aging, cantankerous man and a spoiled teen boy at a cottage are both funny and sweet.
Getaway Dreams
Cabinscape Cottages  are custom-designed tiny off the grid, eco-friendly cabins for rent throughout Ontario. Clean and minimalist in design, with large windows to bring the outdoors in, it's a cosy, eco-friendly, modern getaway to disconnect from the busy world we live in!
Looking for a lot more space? Get ready to dream about a bygone era seeing this century-old Adirondack property to rent on the private Lake Kora. It was once the summer home of the Vanderbilt's and includes 9 log cottages and boathouses.
Happi Bites
A new take on a classic...Campfire s'mores cone:
Sugar or waffle cones
mini-marshmallows
chocolate chips of choice
tin foil
access to a campfire or bbq
1. Fill your cone with marshmallow and chocolate chips until you reach the top.
2. Wrap the entire cone in a square of tin foil, making sure to cover the top.
3. Place your cone on a grill above your campfire flame (or bbq low)
4. Heat for about 2-3 minutes and flip for another 2-3 minutes (depending on how hot your fire is).
5. Use gloves or tongs to open the tin foil and let cool for a minute.
Tips & Tricks
Wear your sunscreen! We know cottage living involves lots of sunshine, so remember to wear sunscreen and protect your skin from harmful UV rays. We like Beaver Natural Mineral Sunscreen.

Natural Mosquito Repellent Tip: Not only does lavender smell great, but crushed lavender flowers help keep those pesky mosquitoes away! Rub the crushed lavender on a bite sensitive areas of your skin, such as ankles and arms. You can also use lavender oil by applying it to your skin with a cloth.


Notable Charity
Amici Camping Charity
 believes that all kids have the right to reach their full potential, and that camp can offer a unique environment to learn life lessons, skills and personal growth. Amici provides funding for children of low-income families not just one year, but the duration of their camp life. There are many ways to donate to Amici however,
Canoe Heads for Kids
 is Toronto's most unique waterfront fundraising event! Every spring, participants paddle and portage 15 km across Toronto's waterfront.
live it. wear it. share it.