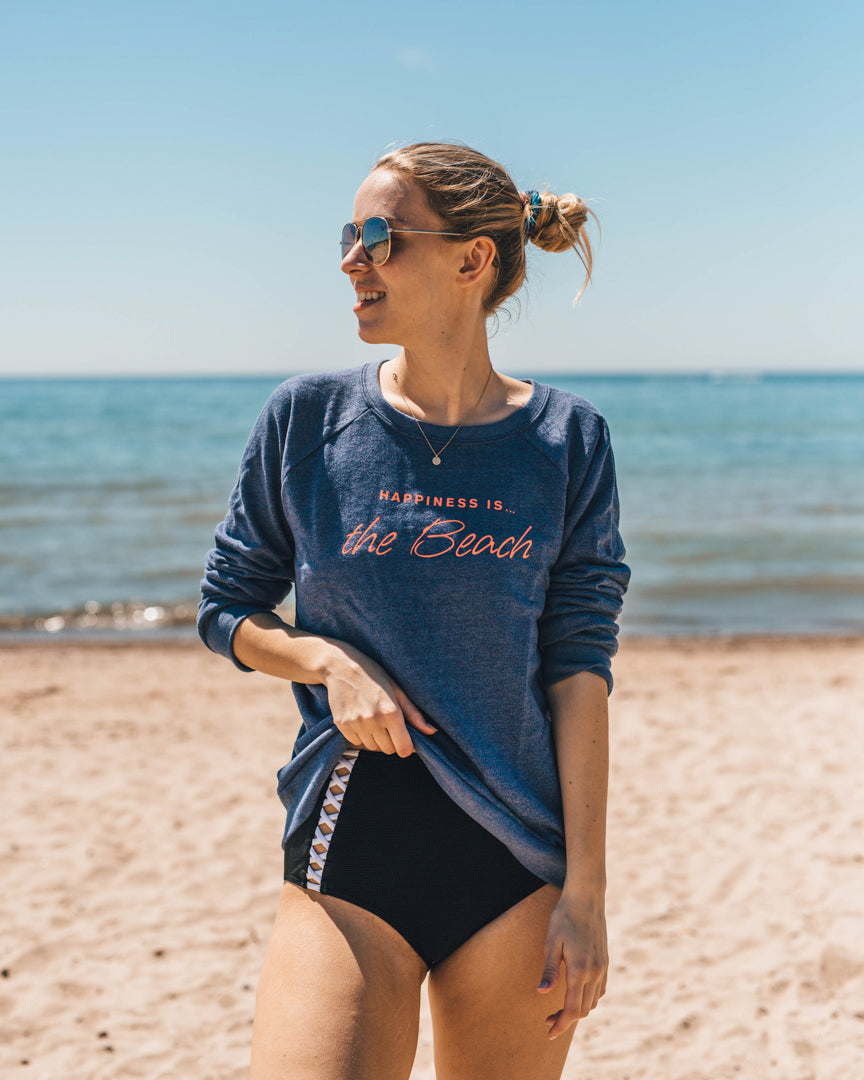 The Beach
Happiness is...
...waves crashing
...sandy toes
...sitting in the sun
...picnics on the beach
...family holidays
...relaxation
...topical heat
...endless water
...sunsets on the horizon
 
I should have been writing this from a beach in Vietnam with Dave and the boys. A year ago, I booked a family trip for this March to Vietnam & Cambodia that was a bit in honour of our 20th wedding anniversary. As a non-typical honeymoon, Dave and I had backpacked in the region for 6 weeks and not been back since.  It is our eldest son's last year of high school and presented an opportunity for family, celebration, adventure, and beach time, all rolled into one. Unfortunately, Coronavirus put a bit of a damper on things, and we had to cancel. We love to travel, and we love going somewhere warm in March. We escape the cold and restore our vitamin D. There are so many different types of beaches we love, and each can bring something special. Sometimes we love a beach for people watching, sometimes its water sports, sometimes for the nearby adventure opportunities. Sometimes we love it for having a beach bar, sometimes we love it for having nothing at all. I may just be dreaming this March, but our favourite beach comes with a lake instead of an ocean...unfortunately for that, we have to wait until the summer. 
August 1999
Pods & Pages
@thebeachlodge is the gorgeous Instagram account for the popular airbnb rental in California. The home overlooks the ocean and is brightly decorated inside to reflect the feelings of being on the beach. We love following this account because we feel like we get a little taste of that Cali beach life with each post! 
@lagunabeachhouse  is the Instagram account for the boutique hotel chain that also gives back to the planet with each booking! Their Laguna Beach location showcases everything coastal California has to offer and the design of the space is heavily influenced by Cali's ever historic surf culture. 
Getaway Dreams
The June Motel is a well known favourite in beautiful Prince Edward County, and it was announced last year that the two owners are expanding their reach and opening up another 'June' in the little retro town of Sauble Beach. Currently under renovations, the new location will have 24 rooms, a pool, and dining lounge. We can't wait to see the final product once it all comes together and you know it's definitely on our list of local places to visit!
Rayavadee, Railay Beach, Thailand
For nostalgic reasons, Andrea has this on her dream beach list to at least try to visit if she went to Thailand. Rayavadee is a boat accessible only resort, wedged between the limestone cliffs and three beaches (one the famous Railay Beach, another with some of the best rock climbing in the world and where she tried it for the first time). In 1999 this resort existed in a minimal luxury way, and she and Dave staying nearby were able to walk the grounds. It appears to be quite a bit larger than she remembers, and the beach at Railay is now very popular. However, the individual pavilions still seem charming and looking at photos with their plunge pools and the grotto restaurant on the beach, oh so cool. 

Happi Bites
Greek Pasta Salad by Health Nut Nutrition
Perfect to bring on a beach day trip!
Notable Charity
The mission of Ocean Conservancy is to protect the ocean from today's greatest global challenges. They work with volunteers to create long-term solutions that promote a healthy ocean so that wildlife and coastal communities can thrive. We all know that whatever happens to the ocean impacts us all, and it is all of our responsibility to keep our oceans and beaches healthy and safe for everyone.
live it. wear it. share it.