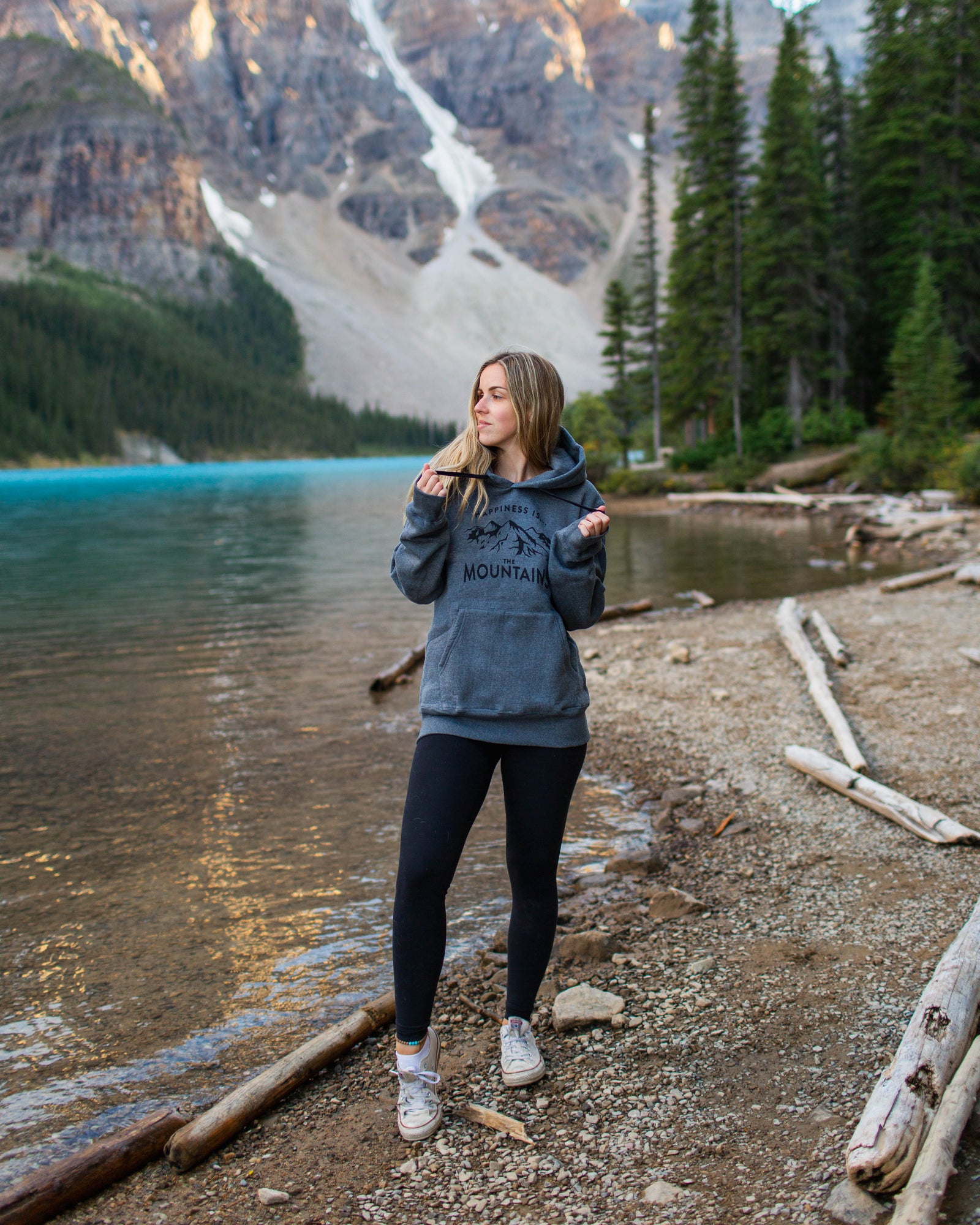 Happiness is...
...high peaks
...mountain hikes
...fresh air
...off the beaten path
...wild life
...turquoise lakes
...shredding the slopes
...being above the clouds
...beautiful views
When my family travels, which we love to do, we have begun to realize we are generally happiest outside of the hustle and bustle of cities. Exploring the countryside, scenery, smaller towns, culture, and possibly slower pace that more nature bound places have to offer. Places that we can't find at home.
Where we live, there are just "hills," and my youngest son, Blake, definitely wishes we lived a mountain life: his favourite activities are down-hill skiing and outdoor rock climbing.  While we only get the tourist version of mountain life on our annual ski trip somewhere in the Rockies, it is certainly leaving its mark on him. But Blake's appreciation goes beyond activities as he is my artistically appreciative child who notices scenery, photography, and artwork. Lawren Harris is one of his favourite painters, and hanging in his room are his favourites: Mount Lefroy and Mountains & Lake. 
Maybe it's a fascination with what one doesn't have (we can idealize with Instagram). Still, it's hard for me not to think that mountain life is the pretty ideal way of living, and seems to have it all: natural beauty, endless exploration, casual lifestyle, activities galore, and even lakes, cities and quaint towns too. 
Andrea Armstrong
Chief Happiness Officer
"When I first moved to Calgary we would drive to the mountains and, like everyone else, simply be in awe. Mountains truly are alive and shifting. From train-running to backcountry hiking and skiing, the peaks and trails are never the same. Although the mountains are incredibly dangerous – from grizzlies to cougars to avalanches and brutal storms, if you are prepared and respectful, the feeling you get from standing at the peak, is not something you can compare to anything else."
Pods & Pages
Although we can gaze at photos of mountains online all day, nothing beats the tangible experience of flipping through a beautifully curated magazine with photos and articles all focussed on the allure of mountain living. Mountain Living magazine showcases the people, homes, decor, events, and destinations that are all based around that mountain life. 

Website & App: Peak Visor
Peak Visor is an awesome website and app that is basically your own personal mountain guide in the palm of your hand! You can search up any mountain and it will show you all you need to know like the elevation of the peak, the location, a brief write up about the mountain, and even a 3D rendition of it. The app can also act as a map and compass which makes it the perfect mountain trail companion. 
Instagram: @aframehaus
This cozy A-frame house was built by the current owners' grandfather as a place to find inspiration and inner peace. It has a panoramic view of all the beautiful things Utah has to offer like red rock, calming streams, lush greenery and gorgeous mountain views! We love following the A-Frame Haus on Instagram because they share all the beautiful photos their guests take while they stay there, as well as cute behind-the-scene Instagram stories. 
Inspiring Women
These women inspire us to push through each day, and remind us that life isn't just about reaching the summit, it's about the journey and struggles that get us there (the view at the top is just a bonus) 
Women Who Explore is a community of women, FOR women! It's a safe and welcoming space for all those who have a love for the outdoors to explore together regardless of their age, the colour of their skin, their hiking experience, income level, and so on. Since it's inception, Women Who Explore has grown to be more than just a local community, and they offer trips all over the world for women to gain new experiences and life-time memories!
Heather Geluk does not think of herself as a mountaineer or alpinist, rather she sees herself as a "normal person, living an ordinary life" and is grateful for all of the experiences and accomplishments that the mountains have brought into her life. Her love for climbing began when she went through life changes and booked a trip to the slopes of Mera Peak, Nepal. Though she went into this trip with no climbing experience, and went through struggles she had never faced before, she reached the peak and thought to herself "this is exactly where I'm supposed to be." 
These women inspire us to try things that may seem completely out of reach to us, and remind us that the journey and struggles we face in life are what make the accomplishments all worth it! 
Getaway Dreams
Talus Backcountry Lodge, East Kootenays
Talus Backcountry Lodge is, plainly put, exactly that. The lodge gives you the chance to take a trip for your soul in it's back-to-basics aesthetic, letting the spectacular mountain views speak for themselves. The lodge is accessible by helicopter from Canmore, which means it is truly in the middle of all the beauty that nature has to offer. Skiing or hiking, an experience at the Talus Backcountry Lodge would be one to remember!
Notable Charity
The British Columbia Mountain Foundation
This is a foundation run completely by volunteers who are all passionate about preserving and improving the great outdoors of British Columbia so that it can be enjoyed for generations to come. As the popularity of outdoor activity grows, so does the pressure to maintain the facilities, trails, and shelters across British Columbia. 
live it. wear it. share it.