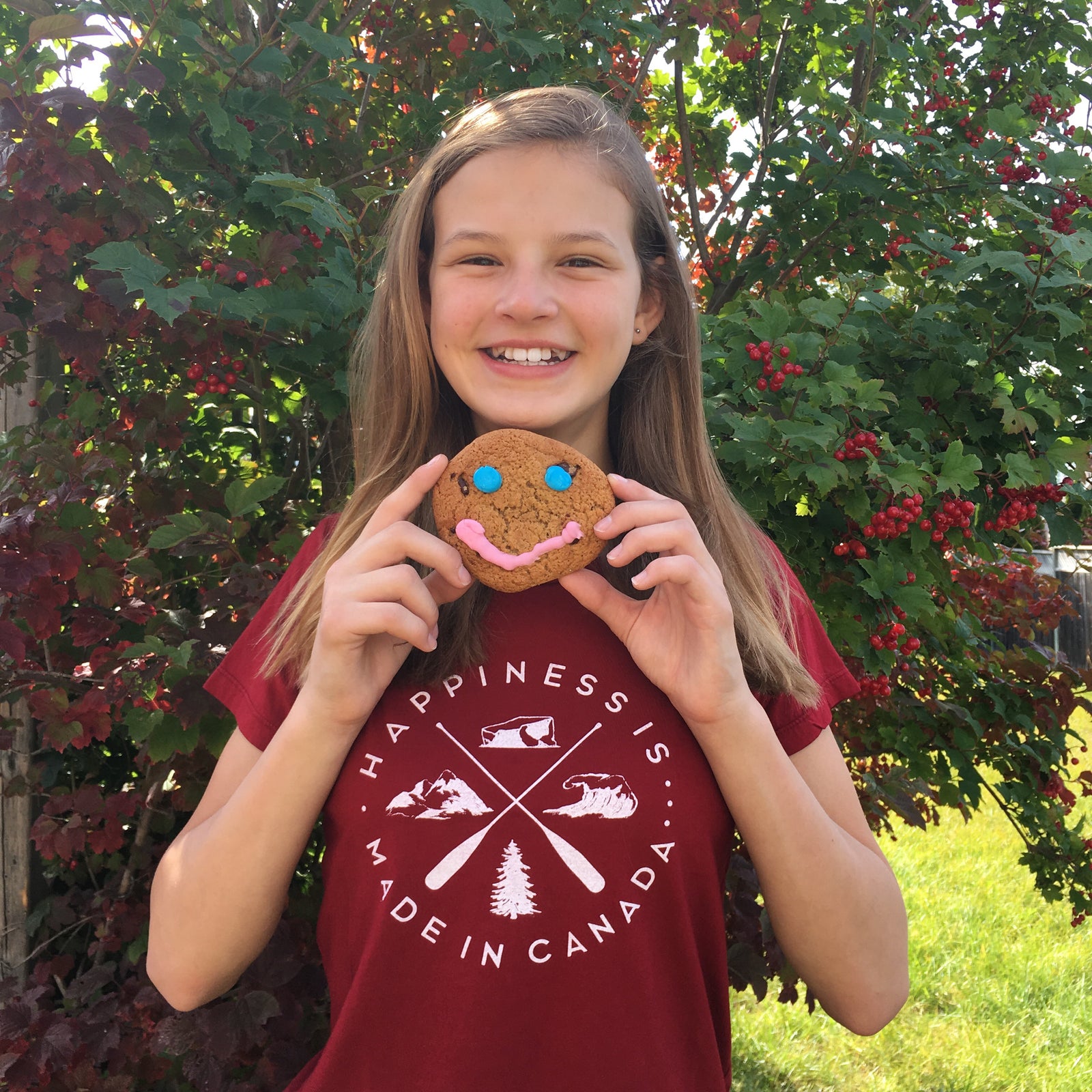 We first met actor Peyton Kennedy  at the Toronto International Film Festival last fall. But we felt like we already knew her — with her roles in Murdoch Mysteries, American Fable, and The Captive, Peyton has been wowing audiences on the big and small screen for over six years now. It's no small feat that the Toronto-born actor has landed big roles with some major directors (Atom Egoyan, for instance).
Her most-recent (and must-watch) project? Everything Sucks, a delightfully sardonic return to 1990s teen-movie tropes via Boring Middle School and the teens that frequent its halls. It's a hilarious throwback to everything we loved about the '90s. Binge watch it all on Netflix!

Peyton recently moved to L.A. to focus on her acting career, but this Canadian ex-pat still looks at Canada as a source of happiness.  At our TIFF pop-up, Peyton took home one of our Happi Tees so she could show off some homegrown pride, and we recently sent her one of our Crest Hoodies, too.  Watch out, Los Angeles! When it comes to talent and Canadian pride, Peyton Kennedy has both in spades. 
_______________________________________________________________________
What do you do for a living?
I am an actress! I've been acting for almost six years now, and it's been an incredible journey so far. I've met some amazing people and I am so grateful for every opportunity I've had.
Do you love it? 
I love it so much! There's something so exhilarating and exciting to me about getting to be another person, and being able to look inside someone else's mind and discover a new person.
How did you get into acting? 
I knew I wanted to be an actress when I was six years old and reading the Harry Potter series for the first time. I was watching the movies as well, and I realized that actors get to bring the words off the page and into a magical film. I fell in love with that idea, and wanted to be an actress from that moment on. Now I'm here and I'm loving it more than ever!
Where do you live?
I just recently moved from my hometown of Toronto to Los Angeles!
Do you love it there?
I absolutely love both Toronto and Los Angeles. I do miss Canada, but for where I am in my career right now, LA is the place for me.
Favourite colour? 
Pink and green are my favourite colours, but a light, pastel sort of pink and green. I think those colours complement each other very nicely. They've been my favourite colours for as long as I can remember.
Favourite breakfast food? 
Well, the food I eat for breakfast most commonly is toast, but my favourite breakfast food is waffles. There are so many different waffle-topping combinations, so it's always something new!
Favourite outdoor activity(ies)? 
I've been swimming for as long as I can remember, and it has got to be my favourite outdoor activity. Aside from that, I love to run and kayak. Also, reading outside in the shade on a nice day with a cold drink.
Favourite indoor activity? 
Reading as well! Reading is just so incredible because you are transported into a world that is totally different from your own. I love reading for the same reason I love acting—I get the chance to be someone else, or reading about someone else, if only for a little bit of time.
What else do you love doing?
I love watching movies a lot. As someone in the industry, it's always nice to support fellow actors, and also upcoming or well-known writers and directors.  
What's your favourite movie? 
My favourite movie is Inception, followed closely by Get Out and The Sixth Sense. These movies make you think, and that's what I love in movies. 
Dogs or cats? 
I have to say cats! I have a cat named Tiki whom I love dearly and have had basically my whole life. He ironically stepped on my laptop while I was writing this and he says 7888frgrlo;p;09wa
Mountain or Beach? 
Ooh, that's a tough one! But I think beach. Beaches are so calming to me. I love the ocean and learning about different types of sea life. I also love swimming, so although I love snowy mountains, I probably have to say beach!
Please fill in the blank: Happiness is…      
Spending time with people whom I can spread my happiness to.
What is Happiness to you?
Happiness is getting to know someone and hearing their laugh for the first time. It's the feeling of grass through your toes and seeing the sun every morning. It's the smell of summer, hearing the birds chirping in the morning and the crickets at night. Happiness is playing games with family and friends, and not caring if you lose because it's about having fun. It's the feeling you get when you discover a really good book you just can't put down. It's staying up later than you should binge watching a TV show. Happiness is the gentle sound of your cat's purring. It's the calming sense of water beneath you as you kayak on a peaceful lake. It's watching people's faces light up when they smile, and the feeling of never wanting a moment to end. Happiness is seeing other people happy.
We're sharing Q&A's with fascinating Canadians who are living their joy and making a positive impact through their adventures, philanthropic actions, and lust for life. Have someone to nominate who fits the bill? Send us an email at info@happinessisinc.ca.