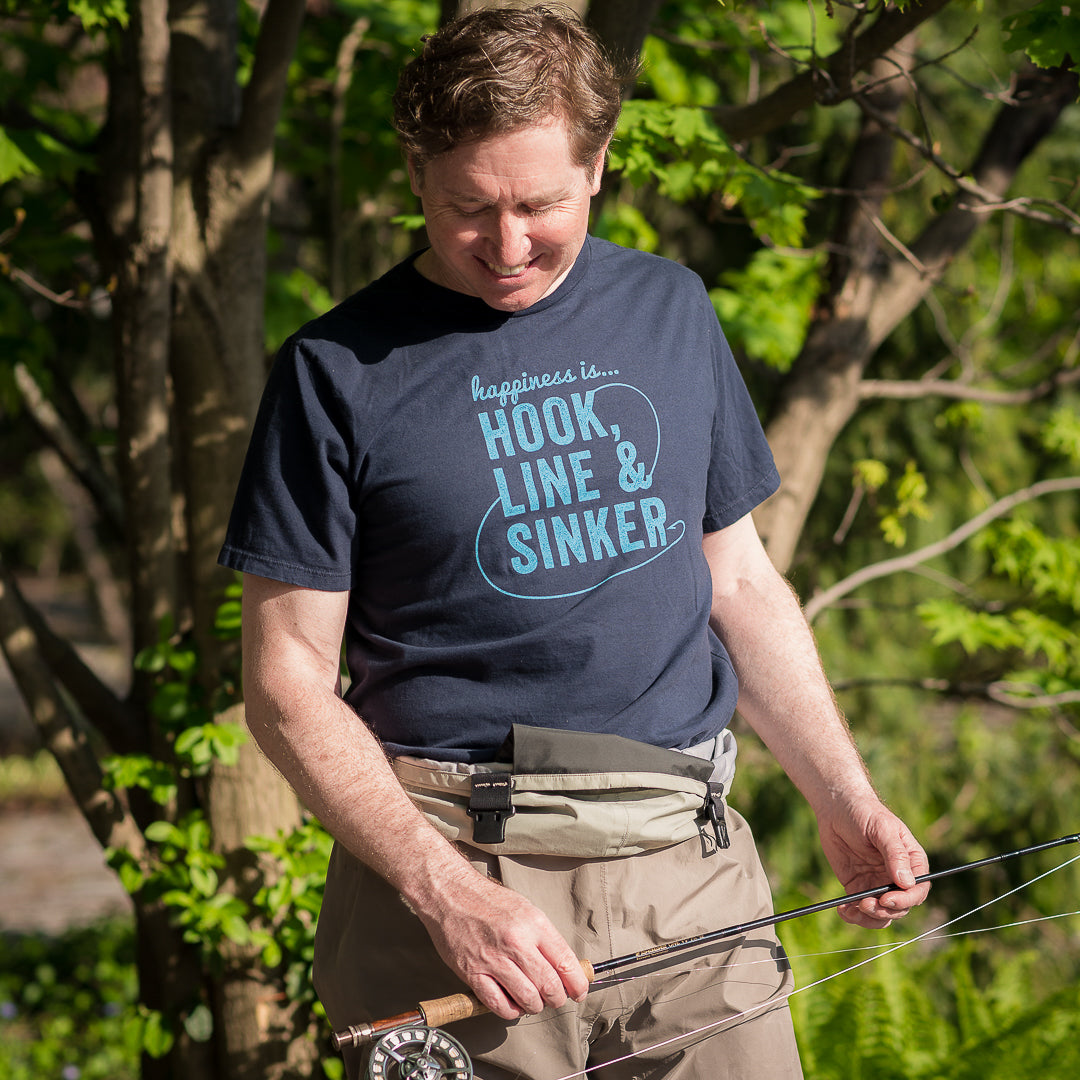 The two great loves in my life are family and fishing – although not always in that order.  
If you are surrounded by people in your life who are fishermen, we are passionate about spending our time on the water, enjoying all of the beautiful nature!  We are also super keen to catch fish!
My wonderful wife Janet (co-owner of Happiness Is) has often asked my 'expert' opinion on the assortment of Happiness is...fishing clothing.  All of my fishing buddies have at least one Happiness is...fishing shirt -they are the perfect Father's Day Gift (my kids seem to be wearing them now too).  Janet is always supportive of my fishing 'needs', and even though she counts the number of times I go on fishing trips every year – and the number has been increasing lately – I really do appreciate her patience and understanding. 
Most people have singular memories of fishing with their father.  My mom loves to tell the story of going fishing with her father on the Moon River, driving the small fishing boat (while reading her novel) and getting him tangled in the weeds.  I enjoy the story about my dad taking my brother and me fishing, and my brother hooking himself in the hand – ending our once in a vacation fishing trip.  These stories are fun to tell and never seem to get old.
My children have a lifetime of stories involving fishing.  Finlay, Henry, and Angus have all spent countless hours on adventures with dad in search of Walter.  
When Finlay (14) was about two, I started to teach her how to fish at my parent's cottage in Muskoka.  We would fish off the dock with her Tinkerbell rod for rock bass with worms (her cousin Izzy and I would hunt for 'Vooorms' around the cottage).  One day Janet and my parents actually left me in charge of Finlay unattended on the dock.  She had on her life jacket and a fishing hat.  I said to Finner, "be careful not to get too close to the edge of the dock, sweetie.  If you happen to fall in, please do not let go of the rod." Sage fishing advice from dad.  Sure enough, I turned around to get my rod, and when I turned back, all I could see was Finlay's fishing hat at the top of the water's surface.  She popped back up, I hauled her out of the lake, but she never let go of the fishing rod.  I have never been so terrified in my life, and of course, when I looked up at the cottage, Janet was in the window – she saw the entire episode.  Finlay loves to tan now, so if she does come fishing, its purely for the rays.  
Henry (12) seemed to have been fishing since birth.  He also learned to fish at my parent's cottage in Muskoka.  We had a small inflatable pool, and he loved to catch the rock bass and put them in the pool.  We would do this for entire days at the cottage.  Of note: I was never allowed on the dock with both children unattended.  Fast forward years later, the family is in Florida for our annual (fishing) trip to St. Pete's Beach.  Henry is about 8 years old, and I decide we are going to fish in the Ocean from the beach.  Immediately after unloading the family at the resort, I headed to the local fishing store and to get the required gear to catch fish.  The next morning Henry and I got up early and headed out to fish in front of the resort. However, the waves were fairly large, and it was windy, and I was starting to think this might not be a very good introduction to the world of ocean fishing for Henry.  I took him to the surf and showed him how to time the waves to make a cast. "Whatever you do, if you fall in, don't let go of the rod," I stated with confidence.  We started making our way up the beach.  About 10 minutes later, I heard this quiet voice, "Dad, I've got one."  As I turned to look, a huge fish came flying out of the water. "Don't panic, keep your rod tip up," I yelled running back to him.  Henry didn't panic, he did an amazing job of fighting the fish.  I ran out into the surf and grabbed the fish.  By now, there was a crowd of about 20 people standing around Henry. It's was a huge Snook, almost half as big a Henry.  We took some photos and let the fish go.  Henry was the hero fisherman on the beach. We've been back to that beach for 5 years and never seen anyone catch another fish like that one.  Henry continues to be the big fish catcher in our family.

Angus (10) was introduced to fishing at Sauble Beach on a small lake with his sister and brother.  Taking 3 children (by yourself) under the age of 10 in a boat to go fishing is the definition of insanity.   The only way I could keep the kids happy for more than 10 minutes was to load up on tons of junk food. I'd let each child pick one snack for the boat.  Angus would grab the biggest bag of cheezies he could find.  It took about 5 tries to figure out the right mix of 'snacks,' worms, and other distractions to get about 2 hours of fishing time.  Angus is a competitive angler.  From the earliest age, I recall him counting the number of fish he caught vs everyone else.  Not surprisingly, Angus always caught more fish than anyone else.  When we got back from fishing, he would be covered in orange (cheezie residue) and hopped up on lots of sugar, with the biggest smile on his face.   Recently Angus has become my fly-fishing buddy.  Last week he and I were walking back to the car after an amazingly fun day of dry fly fishing for trout, and Angus said, "Dad, I love fishing with you." I have tears in my eyes just thinking about this moment.  This is the memory every dad dreams about having with his children.  Angus still keeps count every time we go fishing, and he always wins.  
Happiness is...fishing with my family
David MacKay
live it. wear it. share it.