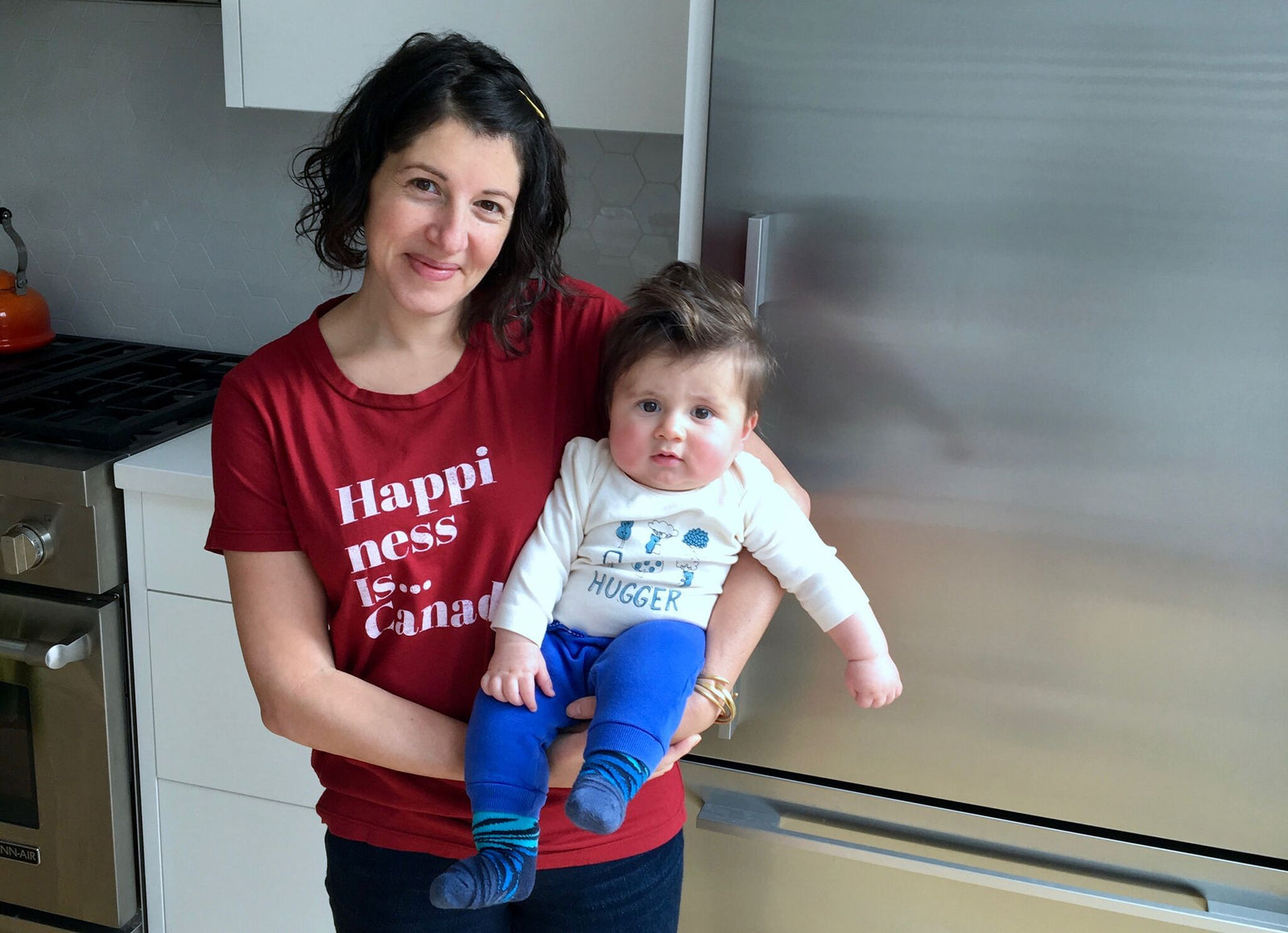 Meghan Telpner is a one-woman tour de force. A holistic nutritionist, speaker, and author, she helms the Academy of Culinary Nutrition and has written the UnDiet collection of books. Meghan has been featured in Forbes Magazine and was named one of PROFIT Magazine's 100 Most Influential Female Entrepreneurs in 2016. She's also a new mama—to the very adorable Finley—and our first nomination for The Happiness Files. She was nominated by her friend Ann, who had this to say about her:
"Meeting Meghan early in her career through in-person classes changed my life.  I look at food, shopping, relationships and work completely different since she touched my life.  She spreads her message of health and wellness with joy and humour."
We're honouring Meghan with a Happi T and this profile. Thank you, Meghan, for sharing your happiness and inspiring others to live their joy.
____________________________________________________________________________________________________________________________
What do you do for a living?
I do lots of things! I'm a nutritionist, author, recipe creator, and I run the Academy of Culinary Nutrition where I lead an incredible global tribe of students. I'm also an awesome wife (if I do say so myself!), and a brand-new mama!
Do you love it? Why?
I love all of it. I am living the life of my own making. I had an idea for a business and it is through my imagination, thoughts, and actions that I am living this life. With work, every day is different. I have an amazing team and together we create new things every day that we put out in the world with the intention of helping others live their best and healthiest lives, so they can fulfill on their potential. Adventuring through life with my husband and son is what makes every effort worth it.
Where do you live? What do you love about it?

I live in downtown Toronto in an incredible neighborhood called Roncesvalles. Our main strip is made up primarily of small businesses where the owners are also active in the community. Neighbors say hello and know each other by name. We have loads of amazing parks, a weekly Farmer's market, bike lanes and I'm within walking distance of my office. It's like living in a small town within the heart of a big city.
Where is your happiest place in the world?

My home is my sanctuary. I love spending time at home cooking, crafting, and hanging out. In the summers, my happiest place is being at our family cottage in Haliburton, a cottage area about three hours North East of Toronto in the midst of a dense forest on a beautiful lake. Being in nature is my best medicine.
What's your favourite song these days?

"Blessed" by Brett Dennen has been a long time, all-time favourite. Lately, though, Snatam Kaur's "Long Time Sun Song" holds a special place in my heart. I listened to it all the time when I was pregnant and we now sing it to our boy Finn as we get him ready for bed.

What movie could you watch over and over again?

Dirty Dancing. I don't believe this requires any explanation.

Do you have an app you can't live without?

I think I could live without it, but I love Etsy. ☺

 What's your favourite food or meal of all time? 
Just one? I love my Thai Red Curry, Pad Thai, and Dairy-Free Lasagna.

What is your favourite outdoor activity(ies)?

Riding my bicycle, hiking, foraging for wild foods, swimming in the lake, and watching sunsets. (That has to count as an outdoor activity, right?)
What's your favourite indoor activity?
Cooking, yoga, writing, and macramé.
What talent or skill do you have that would surprise other people?

I know how to sew. My undergraduate (degree) was in fashion. I can draft patterns and sew. I also have some mad dance skills.
What are your words to live by?

Today is the day!
Are you a dog lover or a cat lover, or do you have another favourite animal?

I like humans and plants. I'm a fan of zebras and flamingos as well, but not so into pets.
Which do you prefer: Mountain or Beach?

BEACH, a gazillion times over.
Fill in the blank:  Happiness is…_______  

an everyday practice.
When are you at your very happiest?

I don't know! We have a practice in our house called "three things." When we get into bed at night, we have to list off three things that brought us happiness that day. I don't think I consider when I am at my happiest but strive to appreciate any small or great moments of happiness every day. That is the practice of happiness.
Have someone you think would be perfect forThe Happiness Files? Email us at info@happinessisinc.ca. Stay Happy!