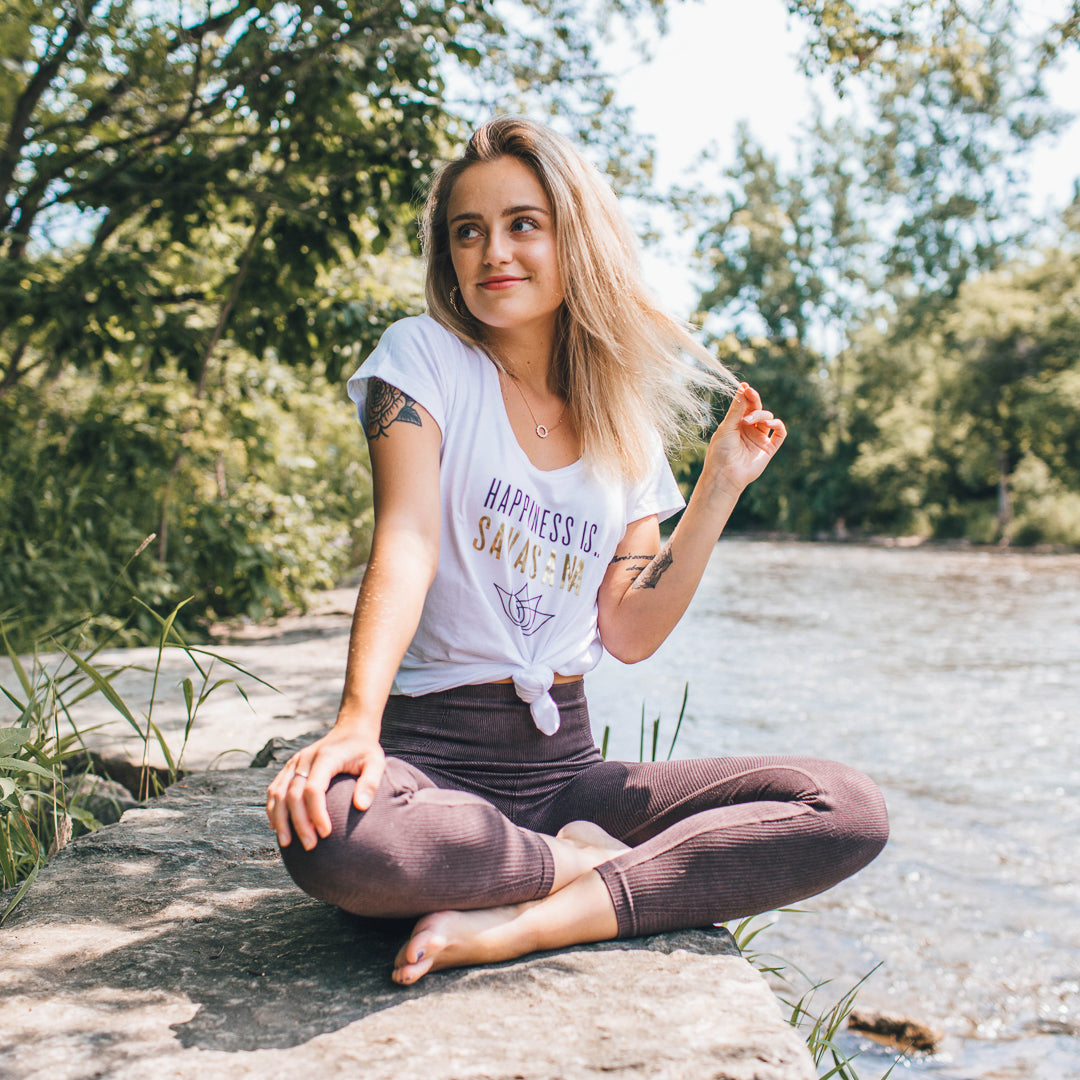 Happiness is...
...Savasana
...Stretching It Out
...A Yoga Glow
...Downward Facing Dog
...Feelin' The Burn
...Mindfulness
...A Great Workout
...Being Grounded & Present
As an entrepreneur and a mom of two busy boys, I always find it really hard to take a moment for myself, forget to press pause or live in the moment.  There is always something to do or worry about.  Being completely honest, even immersed in a business focusing on happiness & connection, I need to be reminded. One routine that I have learned to build into my workday is that I work in my stretch pants and walking shoes (and of course happiness crew sweatshirt or T), and am ready at any ideal break time to take a daily walk.  Sometimes it's just a few minutes to the corner store, other times it's a 6km walk around the neighborhood.  I pop in my headphones, often listen to a podcast (albeit mostly business-oriented ones), and take in the fresh air and surroundings.  Now I have come to rely on this routine, and I know I am healthier inside and out for doing it.  

Andrea Armstrong
Chief Happiness Officer
Pods & Pages
YouTube Channel:Blogilates: Follow along with instructor Cassey Ho as she takes you through her custom-designed killer pilate style workouts for all levels of fitness enthusiasts. She'll help you get that blood pumping and muscles burning in no time!

YouTube Channel:Yoga With Adriene: Adriene offers many different videos for every stage of a yogi. From step by step instructions, to full-on yoga flows and workouts there's a yoga sequence for whatever mood you might be in. She even has a series called "30 Days of Yoga" where she releases a new video every day at the start of each new year!
Getaway Dreams
The Retreat Hotel at Blue Lagoon, Iceland
The Retreat Hotel has it all: cool modern and eco-friendly Scandanavian design; its location surrounded by both an otherworldly moss-covered lava field and the mineral-rich healing waters of a geothermal blue lagoon; daily yoga & hikes; an expansive lava walled spa including a ritual of exfoliation and masks, all within an easy drive to the main sights of the Golden Circle. Its private access area to the blue lagoon, a no cell phone policy in the spa and lagoon, and no tv's in the bedrooms make it a dream-worthy place to restore and rejuvenate.      
 
Body & Mind: Active Lifestyle Hubs
North by North Movement Studio, Port Carling, Muskoka
North by North Movement studio in Port Carling, Muskoka is a must-go if you're a frequent cottager who loves their pilates. The studio is a beautiful, bright cottage style place in an ideal location overlooking the slips. It will still be offering weekend classes from now until October at their Port Carling location but if you can't make it there, they also have a Toronto studio!
Essential Cove, Sudbury

The Essential Cove is a natural wellness studio that encourages people to live a healthy, happy, and natural lifestyle! They are a beautiful intimate studio that offers yoga, massage (RMT & Thai), reiki, vegan smoothies, organic tea, and also have a lifestyle boutique for the essential oil & natural-living enthusiasts.
Tips & Tricks
Mindfulness practices can be very helpful in today's quick paced world. Here are some easy daily activities you can do to help find a little mindfulness everyday! 
 
1. Start your day with a glass of warm lemon water. Try adding a little cayenne pepper to really add a kick to your morning routine. Make sure to wait about 30 minutes before eating breakfast!

2. Self-reflection. Start your day by setting a daily intention like "Productive" or "Happy" and remember to end the day by writing down the things you're grateful for or reflect on something you may have done differently. 

3. Complete one task at a time. Checking your emails? Make sure to put your phone away and eliminate distractions.

4. Mindfully eat. Turn off any distractions you may have and really take in the flavours and textures of the food you're eating. 
 
5. Stretch break! Try a short yoga flow when you wake up or before you go to bed, or simply take the time to stretch out your body if you've been sitting for too long.

6. Breathe! Pause and take a moment to take 3 slow deep breaths in and out to help ground you in the moment. 
 
Notable Charity
Yoga Outreach is an organization in B.C that provides trauma-informed yoga programming in social service facilities through their volunteer yoga instructors. Every year, they offer over 800 yoga classes to social service agencies and facility partners across the province. Their programs provide participants with choice, a sense of community connection, and the tools to draw from to self-regulate and manage their daily circumstances. Yoga Outreach provides yoga classes to clients from social service facilities, prisons, mental health facilities, addiction recovery centres, community centres, and Transition Houses for women and children. If you are interested in supporting their cause or learning more about Yoga Outreach check out their website! 


live it. wear it. share it.