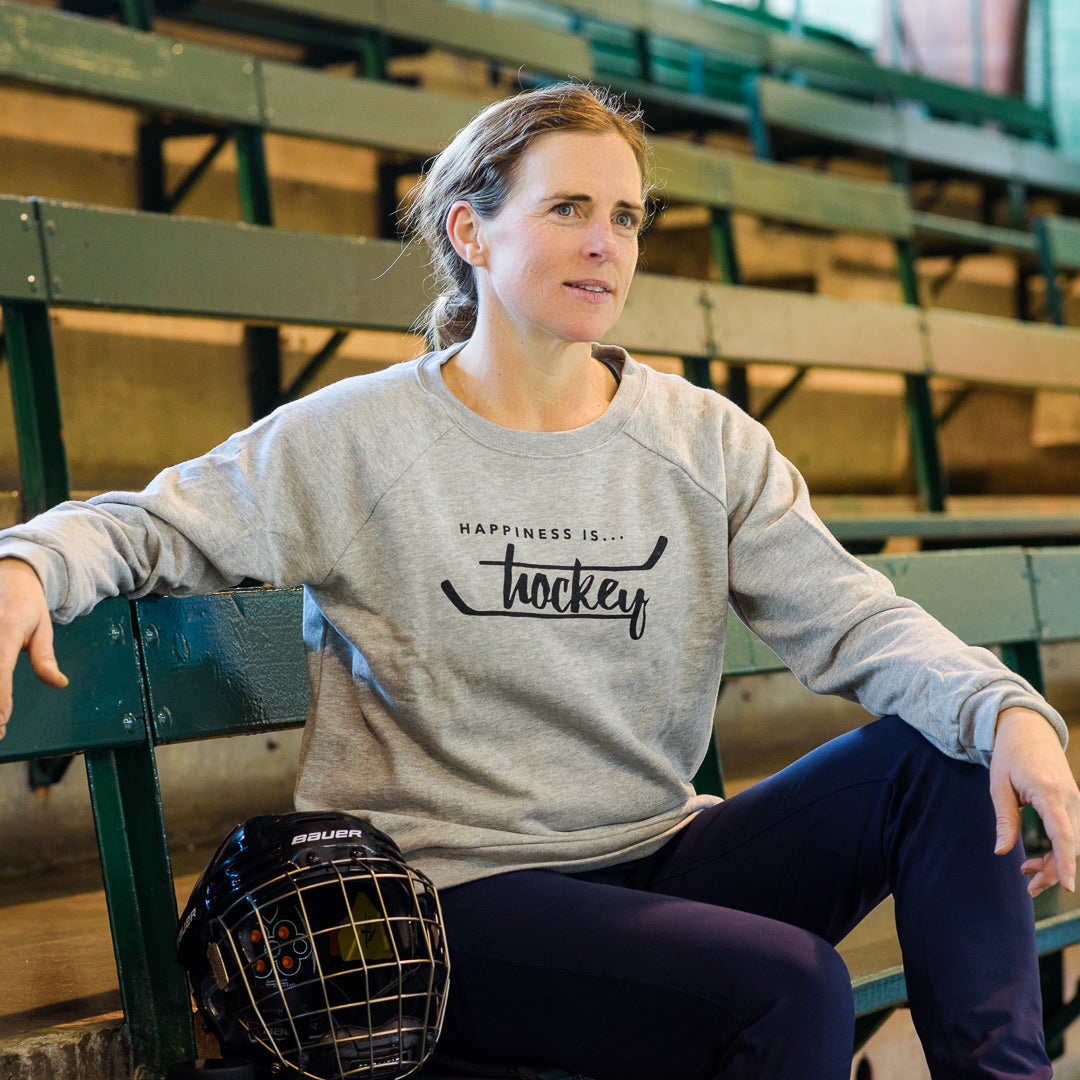 Happiness is...
...The smell of hockey gloves
...Arena fries
...Putting the biscuit in the basket
...A celly
...The sound of a shot off the crossbar
...Scoring
...A comeback
...Finding the heat warmer on when you make your way to the stands
...playing under the backyard lights
...Pond hockey
...A puck battle
...A dangle
...A shutout for the tendy
Brr! The weather is certainly getting colder and that can only mean one thing - hockey season! Whether you are a hockey parent, play yourself, or simply enjoy cheering on your favourite team, hockey is something that always brings the community together. 
Pods & Pages

Born and raised in Parry Sound, ON, Bobby Orr revolutionized the standard for a defenseman. In his memoir, he dives in to not only what his life was like playing the game, but also the age in which it was played. He gives you some insight to his highs and lows and the lessons he learned along the way. A must-read whether you're a sports fan or not!

Podcast: Rich Roll Podcast

"A graduate of Stanford University and Cornell Law School, Rich is a 50-year old, accomplished vegan ultra-endurance athlete and former entertainment attorney turned full-time wellness & plant-based nutrition advocate, popular public speaker, husband, father of 4 and inspiration to people worldwide as a transformative example of courageous and healthy living". In his Podcast, Rich dives into wellness while providing rich insight into all things entrepreneurial. 
 
Getaway Dreams
We are sure many can relate to the feeling on New Years Day, cozied up with leftovers in front of the TV watching the Winter Classic! 

The NHL Winter Classic is one of three regular season games played outdoor and is considered one of the premier NHL events of the year. The 2019 Winter Classic is being held at Notre Dame in Indiana with the Bruins facing the Blackhawks. 

With the location changing each year, you can almost always guarantee a snowy-filled classic game of puck! What a way to ring in the New Year. 

Another getaway we had to highlight is the The Women of Winter- International Hockey Tournaments. The Women of Winter promotes women hockey players of all ages and skill. "T.W.O.W. activities include trips to international hockey tournaments, teaching hockey skills, supporting youth programs, advocating for equal ice time for women players (regardless of level), and the legendary annual outdoor women's shinny tournament held in Toronto since 2006" (www.thewomenofwinter.com). Click  here to learn more about how you can get involved!
 
Happi Bites
This cold weather makes us think of cozy meals, and this All Day Fit  Hearty Chili Recipe is sure to hit the spot! Filled with protein and fibre, this dish would serve as a great pre or post-game meal!

All Day Fit was founded by  Cassie Day, a Toronto-based personal trainer who knew that community, strength, sustainability, and body positivity were the pillars of what she believed in for well-rounded health. All Day Fit is committed to"empowering women to become stronger, in both mind and body". 
 
Tips & Tricks
Calling all women! Have you thought about trying a new sport or getting back into one you used to play? Why not start now!
Sister Sports  is a Toronto athletic company that provides women 35+ with the opportunity to play recreational sports in a fun, friendly and welcoming community.  Liz O'brien (founder of Sister Sports) wanted to create a space for women to come together to try new sports or get back into the sports they played as kids and young adults all while getting a great workout and making new friends.
Offering hockey skills (even for the beginner who has never put on hockey skates!) and league play as well as recreational basketball and volleyball in the North Toronto Area.  Sister Sports is the perfect way to get your body moving while joining a great community of women! Skate Sister's 4-on-4 hockey league gives low to intermediate skill level players the opportunity to play hockey in a "low-key, friendly and safe league that is more about fun, friendship and getting a great work-out than winning the game". 
Click  here to learn more!
We managed to catch up with Liz after a game and stuck around while she watched her next group of skate sisters whip it up on the ice.  We thought she looked pretty good in our new hockey sweatshirt (even though she pointed out she was in unshowered hair!).  



live it. wear it. share it.