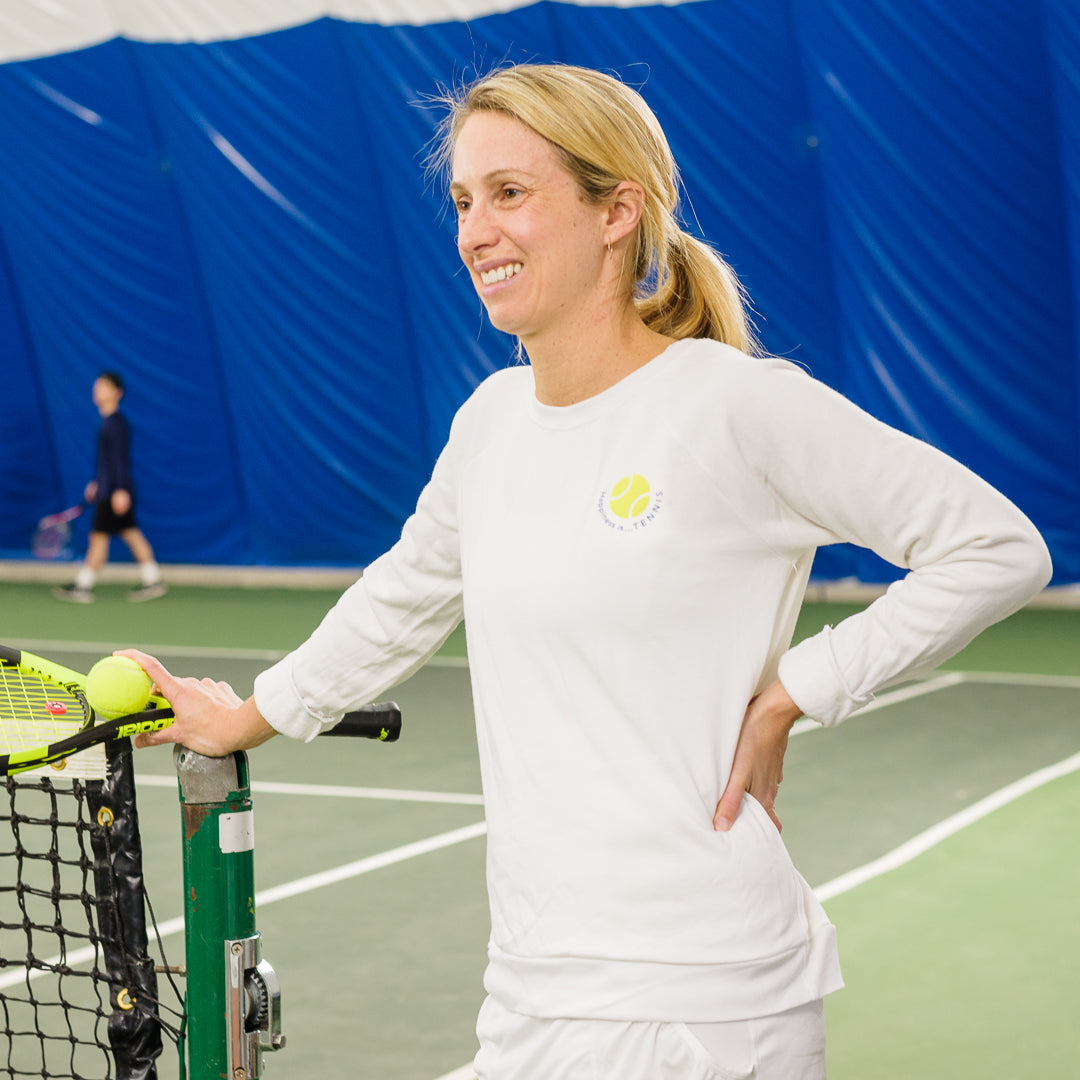 Happiness is...
...40 love
...An Ace
...The Slams
...A Winner
...#BiancaRising
...A Hit and Giggle
...Breakfast at Wimbledon
...Crushing Balls
 
Tennis has been my favourite pastime and passion since I was young. I have so many great memories of summers spent on the courts, playing for hours under the hot sun (no sunscreen) with my friends, bugging the teenage boys who ran the clubhouse, and treating myself to a snack of a Grape Crush and a Mars Bar after a sweaty game (it was the 80's, what can I say?). I played high school tennis and was active in competitive play at our neighborhood tennis club. I won championships with my mother as my partner, lost championships to my mother as my opponent ( my mother and brother were also a champion mixed team). I played for my high school team with my best friend and worked teaching tennis in the summers. I continued to play casually in my 20's and after having a family, I returned to the sport with renewed energy for competition and friendship in my 30's. The past decade I have made a new group of tennis friends who share the love of the sport. We have traveled and competed together, we have enjoyed many cold beverages and laughs after spirited games. While my children's first passion was hockey, I am thrilled they are slowly converting to keen tennis players and we are absolutely loving playing as a family (my husband and I bicker terribly on the tennis court but even that is kind of fun). Attached are some photos of my extended family playing a spirited game. Tennis is a Sport for Life, from tiny juniors to super seniors. I hope some of you share my passion! Janet Cudney (one of the women behind Happiness Is Inc.)
Pods & Pages
Book: Open - Andre Agassi
In this haunting autobiography, Andre Agassi opens up about his rigorous training that began as a child. From training camps that felt like prison camps, to becoming a rebellious athlete, to turning pro at 16, he opens up about fame, loss, and recovery in this incredible tell-all.
Podcast: Beyond the Baseline
Beyond the Baseline features Sports Illustrated executive editor, Jon Wertheim, dives into all things tennis, interviewing some of the top players and newsmakers.
Documentary: Venus and Serena
In this documentary, viewers get access to Venus and Serena Williams personal life during some of the most intimidating years of their careers.
For Smiles
 Remember this  scene from Bridesmaids?
Getaway Dreams
Court of Dreams
Il San Pietro, Positano, Italy It is fabulous and gives you serious wanderlust. For those not wanting to go quite so far, this getaway to Miami will fit the bill. Rated one of the Top 50 Greatest U.S Tennis Resorts by Tennis Magazine, the Cliff Drysdale Tennis Center at the  Ritz Carlton Key Biscayne features one hard court and 10 soft clay Hydrocourts for guests to enjoy. With tennis camps for kids, clinics for adults, lessons, and group outings, this getaway is perfect for the whole family!
Happi Bites
We wanted to bring some summer freshness to your plate and that is why we chose this  Summer Quinoa Salad by Toronto's own,  Living Lou!
Tips & Tricks
Low to High Move your feet It's not hockey, keep your head down when striking the ball For the over 40 set- Warm up and Cool down and check out Body Helix, compression garments for muscle and joint issues. They work so well to help an area that has been injured feel supported and keep you active and playing the sport you love.
Notable Charity
There is nothing that makes parents happier than seeing their kids enjoying an activity - feeling a part of a team and a community. However, with sports and other extra-curricular activities come great expenses, and not all families are fortunate enough to afford it. The Philpott Inner City Children's Fund was created to provide Toronto's diverse neighbourhoods, free tennis lessons from qualified coaches and instructors. Children who attend these camps learn more than just tennis, they learn discipline, teamwork, cooperation, and so much more. There are many ways to get involved through volunteering or attending events. Find out how you can help this amazing cause by clicking  here!
live it. wear it. share it.