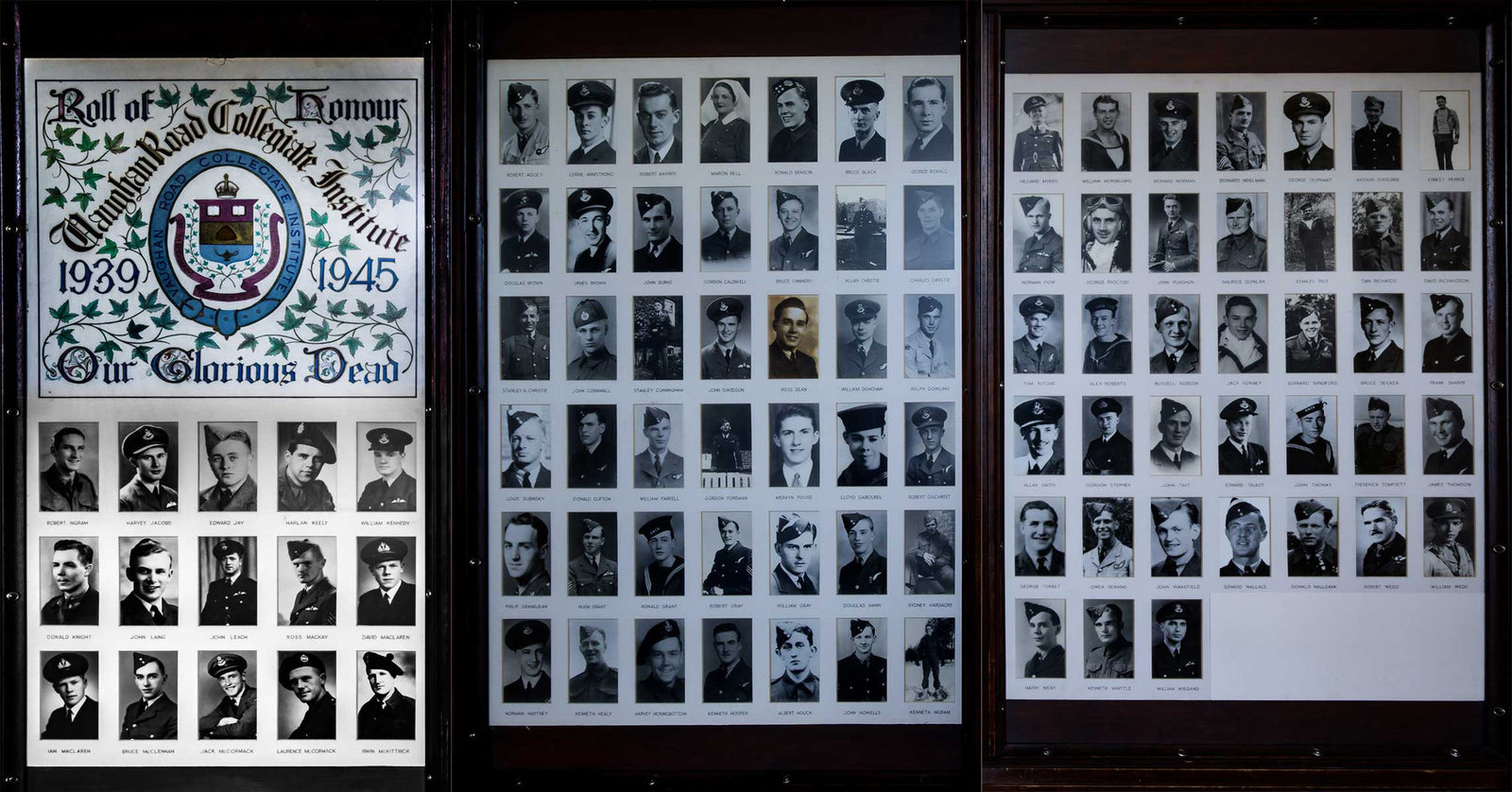 I UNDERSTAND THAT MANY OF OUR HIGH SCHOOL STUDENTS ACROSS OUR GREAT COUNTRY HAVE, AS PART OF THEIR HISTORY COURSE, THE STUDY OF WORLD WAR 2.
My firstrecognition of the widespread admiration for Canada and Canadians began in World War 2.  The Canada badges on our uniforms rarely ceased to evoke expressions of admiration and respect.  It was spontaneous!  It gave our armed forces a lift – a happy moment in tragic times for our armed forces!
On my return I visited my old high school, Vaughan Road Collegiate Institute (now Vaughan Road Academy).  Inside the main entrance on Vaughan Road I was met with a montage of (ninety-five) 95 former students – almost all of whom had been my friends and/or my classmates.  It is still there today!
Their beautiful smiling faces no longer grace this earth for they had all been killed!  NINETY-FIVE FROM ONE HIGH SCHOOL.  I WAS IN SHOCK!  I thought of the 190 parents, many of whom I knew – the 95 families – the countless friends.  Some of this group had been an only child – in two or three cases brothers had been killed (the only children).  Ninety-five students who graduated from high school, to the armed forces, to losing their lives!  FOUR CLASSROOMS OF STUDENTS!
 This small but specific segment of our great nation had been denied a chance of fulfillment of their lives! I ASKED MYSELF "WHAT FOR?".
I VOWED then that they would never be forgotten; and today their names are printed each year in the graduation ceremonies program thanks to the cooperation of the Principals and Vice Principals.  I had hoped that appropriate recognition for all of them would never cease.  They helped build Canada!
 I also recognize that there are other Canadians, young and old, who gave their lives in other conflicts during our first 150 years; and so I also vowed that to the best of my ability ALL these special Canadians would never be forgotten!  They were, and are, a vital part of Canada. 
UNFORTUNATELY
I was recently informed that Vaughan Road Academy, (the successor to V.R.C.I.), whose Principal, Vice Principal, staff and student body have been so helpful to me in my quest for continued recognition for the V.R.C.I. '95 will in all likelihood be closed permanently in 2017.
 Once again I am devastated!
I am at a loss where to turn!  My first thought (impromptu) is to appeal to high schools across the country who have the resources, to honour and remember their deceased students from World War 2.  At least I would be able to share this vicariously with my fellow Canadians. 
Another thought is to ask my viewers for their suggestions!  Please, and THANK YOU!  It would make this 95 year old codger a very happy man.
LEST WE FORGET!
Gordon Carton