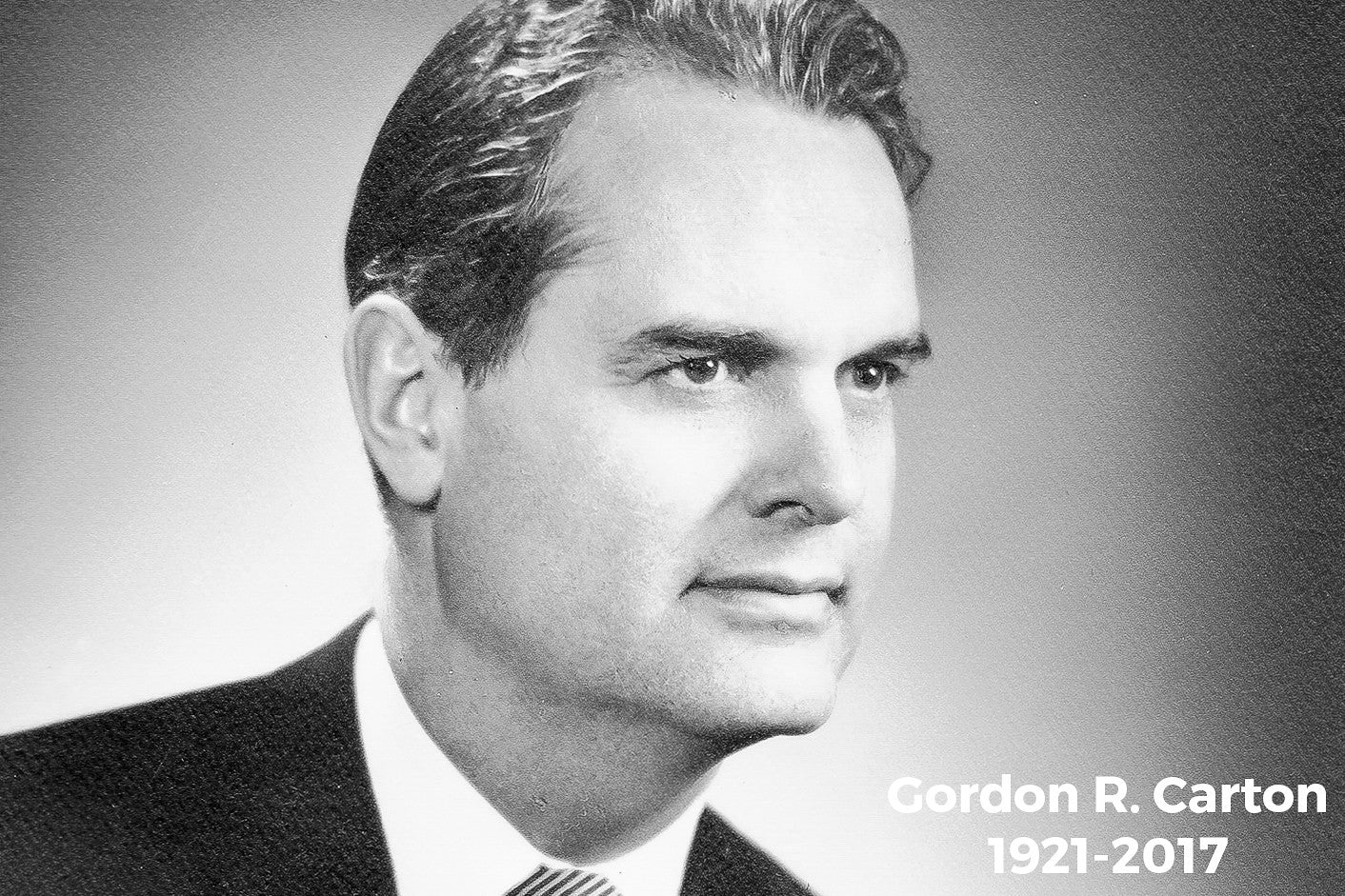 It is with great sadness that I let you all know that Grampy, Gordon Carton, passed away last Thursday after a surprise illness wore him down these last few months.  I may have lost my hero and our founder, but his passion for Canada and his vision to celebrate happy moments with all Canadians will live on through Happiness Is Inc. The team and I will do our best to keep his legacy alive.
Gordon (born July 14, 1921) passed away peacefully on April 6, 2017 at the age of 95. As a lawyer, politician, corporate executive, innovator, entrepreneur and family man, he made incredible contributions to his city, province and country. A navigator in the RCAF in World War II, Gordon obtained his law degree at Osgoode Hall, after which he worked as a lawyer at Carton Richardson, before entering into politics. Gordon was first elected to the Ontario Legislature in 1963 as a Progressive Conservative Member of Provincial Parliament representing the riding of Armourdale. He served as an MPP for 12 years, during which time he sat on numerous committees and was appointed by then Premier William Davis to various cabinet positions, including Labour, Financial and Commercial Affairs and Transportation and Communications. However, it was in 1964 that Gordon made his mark in politics. Standing up for his constituents against his own party's Government, Gordon was instrumental in protecting the property rights of those affected by the construction of Highway 401. Dubbed the "Rebel with a Cause", Gordon advocated for the construction of sound barrier walls to separate the property owners from the highway. Those barriers are still in place today and utilized all across the province.
Following his years in politics, Gordon entered private industry as the Vice President Legal and Corporate Secretary for Silcorp Industries Limited, which included Silverwood Dairies and Mac's Milk and introduced Baskin-Robbins ice cream to Canada. Gordon sat on multiple Boards, including for Connexall, a company with an IT platform that improves healthcare delivery, patient safety and outcomes. Gordon also served on the Boards of charities and non-profit organizations such as the Canadian Progress Club, York University, Community Living, Participation House and the Toronto Y.M.C.A. It was through this experience that Gordon saw the benefit a Board could provide those running an organization, so he started The "Ideal" Advisory Board, which acted as a mentor and advisor for over 25 years to small and medium sized businesses.
Always the entrepreneur and innovator, at 95 years old Gordon's profound love of Canada inspired him to start Happiness Is Inc., a casual clothing company. In his words, he hoped it would 'serve as a lifetime inspiration for all Canadians to celebrate our moments of happiness together.' Gordon also felt overwhelming gratitude when, on a visit back to his old high school, Vaughan Road Collegiate (later named Academy), he saw a montage dedicated to his 95 classmates who lost their lives serving alongside him in World War II. In part, his initial collection Happiness Is...Canada, serves to honour the "Vaughan Road 95" and their sacrifices. With the help of his granddaughter, Andrea Armstrong, Gordon's legacy of serving Canadians by inspiring them with happiness lives on.  
Even with all of his successes in law, politics and business, Gordon will be best remembered as a loving and dedicated family man. He was predeceased by his high school sweetheart, Marjory (nee Davis), his parents Arthur and Isabella, his brothers Emerson, Elmer, Elwood and Billy and his sister Dorothy. He is survived by his wife Sharon (nee Stuart), his brother Donald, his daughters Heather Carroll (Norris Carroll) and Janice Woods (Christopher Woods), as well as his four grandchildren Vikki Scaini (Richard Scaini), Billy Rankin, Andrea Armstrong (David Armstrong) and Gordon Woods (Sarah Woods), and his five great-grandchildren Brooke Henry, Ryan and Blakeney Armstrong and Peyton and Jamie Woods, all of whom loved and adored their "Grampy".    
Gordon was an innovator, an entrepreneur, and a visionary, who was humble with a heart of gold, a sharp mind, a keen sense of humour and an infectious smile. He lived his life with a positive attitude even through adversity, and was an inspiration and guiding light to those that came in contact with him.
A celebration of life will occur at 1 pm on April 21, 2017 at the Toronto Cricket Skating and Curling Club, located at 141 Wilson Avenue, Toronto, ON M5M 3A3. Donations in Gordon's name can be made to Dorothy Ley Hospice at 220 Sherway Drive, Etobicoke ON M9A 0A7.